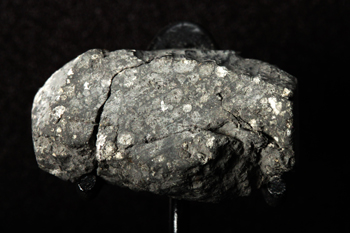 Stony Meteorites:
Chondrites:
consist mostly of chondrules - spherical, mm-sized
once-molten objects that formed during a fast heating event. They are believed to originate from an undifferentiated smaller asteroid that cooled quickly and formed at the same time as the planets in our solar nebula 4.55 billion years ago.

Size: 3cm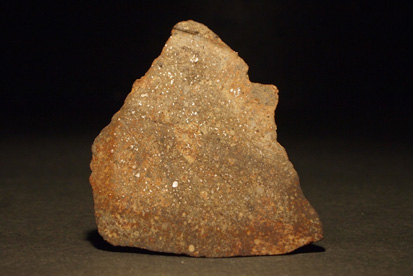 Stony Meteorites:
Brecciated Stony Chondrite
NWA 869 Meteorite found 1999 in Algeria, near Tindouf
Size: 7.5cm

Brecciated chondrites are a product of collisions between asteroids or fragments which happened especially nearer to the formation of the solar system. They are a result of reaccumulation of fragments from one or many undifferentiated rocks after impacts not particularly related to each other.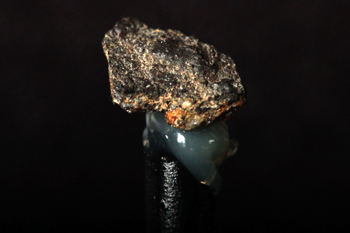 Stony Meteorites:
Achondrites:
are melted stony meteorites that come from larger asteroids where heat was not lost quickly enough so that the bodies began to melt and differentiate into core, mantle and crust. Achondrites represent the outer layer, the crust, of the differentiated asteroid.

Size: 7cm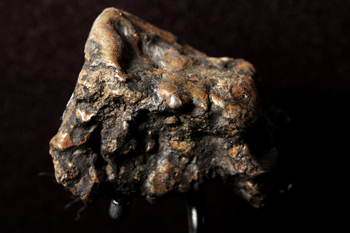 Stony-Iron Meteorites:
consist of a mixture of silicate minerals surrounded by
iron-nickel metal, a product of differentiation processes. They are thought to have originated at the core/mantle boundary of a large asteroid.

Size: 3cm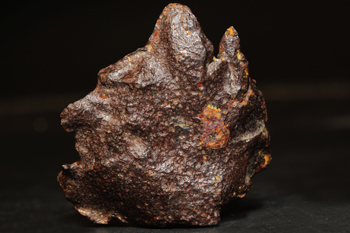 Iron Meteorites:
were originally completely molten and formed from
iron-nickel cores of large asteroids. They provide us with the best clues about the composition of the inaccessible Earth's core.

Size: 7cm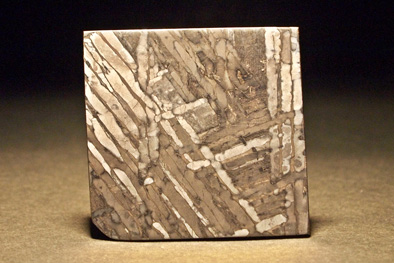 Iron Meteorites:
Seymchan Iron II E (Pallasite) found 1967 in Russia, Magadan
Size: 5.2x5cm
This polished and lightly etched sample of an Iron Meteorite shows criss-crossing bands, which correspond to the separation of phases poor and rich in nickel during the slow cooling of an initially homogeneous alloy. These structures are called "Wittmanstaetten" pattern characteristic to meteorites. They are products of an extremely slow cooling rate inside an asteroid of around 1°C per million years. Such slow cooling rates are impossible at the surface of the earth.