HK SciFest 2018
Saturday openings with guided tour from March 17 to April 22!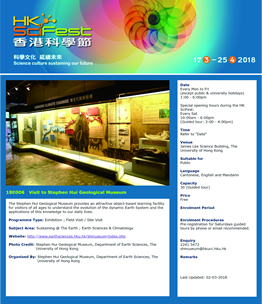 During the SciFest 2018 from March 17 to April 22, we will be open to public every Saturday from 10am to 6pm additional to our regular opening hours.

Each Saturday we offer a guided museum tour from 2-3pm focusing on the evolution of our dynamic Earth System.

Pre-registration for the guided tours by phone (2241 5472) or e-mail at shmuseum@hku.hk is recommended!

For more information on the HK SciFest 2018 go to