Last Chance
to view our special exhibition "Snapshots of a Vanished Environment" at the Mineral, Gem & Fossil Expo in the Exhibition and Conventions Centre in Wanchai
from June 23 to 26 in the Convention Hall at our Booth CH E/11.
Come and visit us there!

Snapshots of Vanished Environment – Exceptional Fossils from the world famous Jurassic Solnhofen Limestone in Germany
Special Exhibition from April 22 until June 22, 2016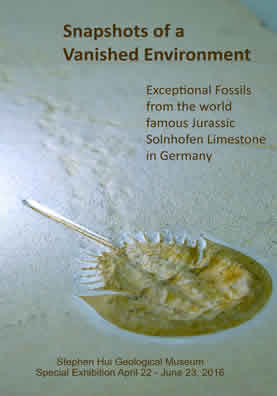 This exhibition presents 11 rare and exceptionally preserved fossil animals from the Jurassic Solnhofen Limestone in Germany, some up to 90 cm in diameter. It gives a glimpse into the environmental challenges these organisms faced 150 million years ago preserved in limestones of the world's most famous fossil Lagerstaette.

The displayed fossils are ancestors of today's fishes, shrimp, crabs, squid and lobster (Yu Ha Hai) -- all organisms people can relate to as the modern forms of these prehistoric animals are today part of our daily lifestyles. The exhibition reminds us about the new environmental challenges the modern descendants of these ancient ancestors face in today's world where their survival is now threatened by human activities after millions of years of successful adaptation to natural environmental changes.

We acknowledge Dr. Martin Goerlich who kindly provided the fossils for this special exhibition.
For more information see at:
http://www.hku.hk/press/news_detail_14482.html

Details of the exhibition:
Venue: The Stephen Hui Geological Museum, Main Campus, HKU, Pokfulam, Hong Kong (Map)
Date: April 22, 2016 (Friday) to June 22, 2016 (Wednesday)
Regular Opening Hours: Monday to Friday from 1pm to 6pm

Special Weekend Openings:
April 23, 30, May 7 (Saturdays), from 11a.m. to 6p.m.
May 14 (Saturday) and May 15 (Sunday) (International Museum Day weekend), from 11a.m. to 6p.m.

Guided Tours:
Venue: The Stephen Hui Geological Museum, Main Campus, HKU, Pokfulam, Hong Kong
Free guided tours will be arranged at 2p.m.during the weekends. Free of charge. No registration required. 
Language: English (April 30); Speaker: Dr Petra Bach
Language: Cantonese (April 23 and May 7, 14, 15); Speaker: Dr Haz Cheung

Enquiry: Tel: +852 2241 5472