The Stephen Hui Geological Museum presents
the largest exhibition on private mineral collections in Hong Kong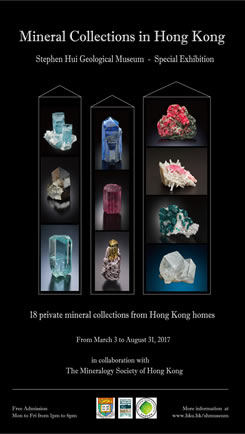 The Stephen Hui Geological Museum of the University of Hong Kong (HKU) in collaboration with The Mineralogy Society of Hong Kong present the special exhibition "Mineral Collections in Hong Kong" from 3 March to 31 August 2017 at the Stephen Hui Geological Museum.
For the first time in Hong Kong, private mineral collectors present their collections together to the public to celebrate the beauty of the natural world and to introduce the fascinating hobby of mineral collecting. The public will have a chance to see over 200 precious minerals collected by local collectors in the largest exhibition of its kind in the territory.

This exhibition showcases over 200 precious minerals from 18 collectors from Hong Kong homes. Highlights are the infinite variety of minerals on display including one of the best gemmy single crystals of Tanzanite from Merelani Mine, a very rare large gem quality Aquamarine on Albite with large fluid inclusions from Balochi, Gilgit-Baltistan, Pakistan and a 18 cm large gemmy Rhodochrosite on Quartz from the famous Sweet Home Mine in Colorado, U.S.A.. The mineral display cabinet of the late Dr Stephen Hui Sze-fun with a selection from his private collection is also included.
Details of the Exhibition:
Date: March 3 to August 31, 2017
Venue: 1/F, Stephen Hui Geological Museum, James Hsioung Lee Science Building, the University of Hong Kong
Opening hours: Monday to Friday, 1 p.m. to 6 p.m.
Closed on Saturdays and Sundays, University and Public Holidays
Free Admission
Special Weekend:
Openings from 10 a.m. to 6 p.m. on:
March 18 /19, 2017
April 22/23, 2017 (Earth Day)
May 13/14, 2017 (International Museum Day)
June 10/11, 2017
July 15/16, 2017
August 12/13, 2017
More Information:
http://www.hku.hk/press/c_news_detail_
The Mineralogy Society of Hong Kong website:
http://www.minsochk.org/ENG/home.php
General Enquiries:
Tel: (852) 22415472 /
Email: shmuseum@hku.hk