"Climate Change 360ᵒ" Exhibition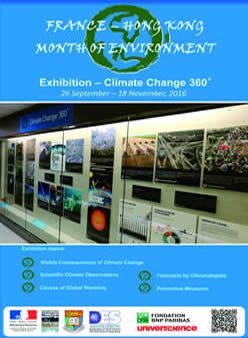 Held from September 26 to November 18, 2016 to coincide with the Climate Change Summit in Nantes, France (26-27 September 2016) and the upcoming United Nations Climate Change Conference COP22 in Marrakesh, Morocco (7-18 November 2016).
The exhibition is a collaboration between the Stephen Hui Geological Museum and the Consulate General of France in Hong Kong and Macau and part of a series of events during the "France – Hong Kong Month of Environment" from September 20 to October 20, 2016.
Climate Change is a pressing and central issue in our conversations of our time as we seem to witness many changes in the environment such as the melting of artic sea ice and sea level changes. Our generation today faces the double challenge to be the first generation that is starting to witness and feel the impacts of climate change, and yet, may be the last one that can mitigate and fix it. This "Climate 360°"exhibition helps to raise public awareness of climate change issues.
This exhibition adds valuable information to the existing permanent exhibition on Cenozoic Climate Change of the Stephen Hui Geological Museum. Together the two displays complement each other to allow a better understanding on the Earth's climate system through latest observations and scientific research on Climate Change in the geological past, at present and in the future.
Details of the Exhibition:
Date: September 26 to November 18, 2016
Venue: Stephen Hui Geological Museum, James Lee Science Building 1/F, The University of Hong Kong
Opening Hours:  Mon – Fri, 1pm to 6pm
Closed on Saturdays and Sundays, University and Public Holidays
Free Admission
Tel/Email: (852) 2241 (General Enquiry / shmuseum@hku.hk